Join us!
View our open positions below and submit your resume via the form.
Your Alphacomm career starts here
alpha (n): Someone with a strong sense of determination. A strong ambition and desire to succeed.
This definition 100% embodies our Alphacomm team. We're a team of passionate individuals that know how to hustle. And after we hustle, we know how to have fun. That's why it's so much more than a job at Alphacomm. You can expect to have co-workers become friends. Managers become mentors. Leadership take an interest in your growth.
We believe in supporting each other and in turn, supporting our customers. If this gets your attention, keep reading (we're about to get to the really good stuff).
A few other perks of working for Alphacomm…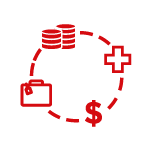 Competitive salaries
401K with generous company match
Medical, Dental, Vision insurance
Generous PTO

Flexible hours and remote working options
Company sponsored events several times a year
Free company swag
Discover your next role.
There are jobs – and then there are careers. We're looking for talented minds to help us reshape the wireless accessories landscape and make products that reach millions all over the world.
Our current open positions
What we need
We have an exciting opportunity for an Inside Sales Representative to help ensure that we are maximizing revenue from all partners within our Alpha Comm programs. Candidate should have experience with inside sales with the ability to conduct outreach via phone and email to drive incremental sales and create accessory orders. The individual will be assigned a regional territory where they will nurture all dealer doors that aren't buying accessories at a high participation rate.  Expectation of this role will be to conduct high outbound activity averaging 50 contacts daily.   The Inside Sales Representative will have strong capabilities in overcoming objections and building value of Alpha Comm programs and our accessory categories. This position reports directly to the Inside Sales Supervisor.
Summary
Alphacomm custom designs, manufactures and distributes wireless accessories to over 18,000 points of distribution in North America. The company leads the wireless industry in the number of carrier brands managed and is the first to market carrier-licensed accessory portfolios for over 50 devices launched annually. Leveraging its unique vertical-integration model across the value chain, Alpha Comm custom designs products specifically for each device and brand and leverages its predictive analytics fed by proprietary business intelligence to enable just-in-time inventory access. Alphacomm's customers include corporate wireless carrier stores, independent carrier owner/operators and national and specialty retailers. Company and position are in Lawrenceville, GA.
Responsibilities 
High level inside sales skills with the ability to identify sales gaps and conduct outreach to partners to generate incremental sales.
Minimum daily outbound activity of 50 sales touches.
Ability to build value in programs, accessory categories, and products
Utilize CRM/ERP and logistics tracking systems to secure sales orders
Ability to offer partners alternative options for out of stock product
Ability to recommend additional products with each sales call
Work with partners to foster weekly replenishment orders to best service their customers
Provide leadership feedback from our partners to assist in enhancing product, process, and technology
Work collaboratively with cross functional teams to ensure that we position products and services to the highest degree
Share best practices to create a best in class inside sales organization
Requirements 
2-3 years in high volume Inside Sales role. Ability to conduct 50+ outbound calls daily
Strong hunting and prospecting capabilities
Bachelor's degree preferred.  Experience in Inside Sales or Retail Sales.
NetSuite experience strongly preferred.
Ability to consistently communicate the value of Alpha Comm programs and accessories.
Ability to overcome sales objections.
Possesses superb written and spoken communication skills
Excellent interpersonal relationship building
Excellent computer skills word, excel, PowerPoint.  Ability to navigate multiple software solutions.
"*" indicates required fields