Frequently asked questions
Shipping
How long will it take for my order to process after I place it?
All orders will be picked, packed, and shipped within 48 hours. We do recommend placing orders at the beginning of the week or the Friday of the week prior (especially for Dealers on the West Coast) to allow enough time for processing, shipping, and receiving in order to have products prior to the weekend.
What are my shipping options?
Standard shipping is ground FedEx that will generally take between 1 to 7 days depending on your location.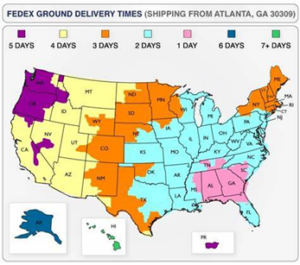 Two Night Overnight is available for an additional cost. Cost is determined by shipping location and package weight.
Next Day shipping is available for for an additional cost. Cost is determined by shipping location and package weight.
Why do I get boxes delivered on separate days for the same order?
If you experience boxes for the same order delivered out of order, it is a Fedex related transit issue. Most of the time this issue is due to having contract drivers or attempting to deliver a box before the store is open.
What do I do if I am missing items or a shipment comes damaged?
File an RMA with Alphacomm. You can find details at http://shopalphacomm.com/rma
Webstore
How do I know when new items are added to the webstore?
Alphacomm sends out an email announcement when a lineup for a new device or a new Universal SKU is added. We send to two email addresses: (1) the one on your account in My Account>Settings>Profile Information, and (2) any Buyers that have webstore access. Talk to your rep if you want to make sure you're on the list for these notifications!
How should I share product feedback on new items I'd like to see added to the catalog?
We'd love to hear any feedback you have for us. You can do so by submitting a ticket on the webstore, sending an email to feedback@alphacomm.com, or contact your sales rep directly.
What should I do if I need assistance while using the webstore? (I.e. site issues, product questions, etc.)
If at any point you are experiencing issues on the shopalphacomm.com site or have questions, you may submit a ticket via the Support tab located at the top of the webstore or contact your sales rep directly.
COVID-19
Is COVID-19 affecting Alphacomm's order processing and shipping?
All operations at Alphacomm are at 100% capacity!
We have received updates from our shipping carriers that certain regions in the country have been and are experiencing delivery delays. An overall increase in shipping demand nationwide with all the carriers, plus transportation limitations both ground and air, have caused service disruptions at times. Please be patient with the delivery services and allow extra time as needed for your order to be delivered. 
What measures is Alphacomm taking to ensure my package is safe to handle?
Our first priority is the safety of our customers and our warehouse crew.
All warehouse employees follow social distancing and frequent hand washing guidelines and hand sanitizing stations have been implemented. All orders are handled using protective masks and gloves, and shipping carriers have access to our hand sanitizing stations prior to handling our packages.
Will I still be able to receive my warranty assistance and customer support during the pandemic?
Of course! As always, our Customer Support Team is on stand-by (in their respective homes) to address any questions or warranty assistance. Please do not hesitate to contact us through support@alphacomm.com or by shooting us a note here, and we'll do our best to help!
General
How long has Alphacomm been in business?
Alphacomm got its start in the wireless industry back in 1996.
What are your office hours?
Our standard business hours are Monday – Friday 9 a.m. – 6 p.m. EST
Please note: Orders placed on weekends and holidays will start processing the following business/working day.
How do I contact Alphacomm?
We'd love to speak with you! You can always send us a note here or reach out to us directly at either of the following:
Phone: 888-951-0909
Email: support@alphacomm.com
Where are you located?
Headquarters based in Lawrenceville, Georgia with over 1M square feet of warehousing space, and a brand-new state-of-the-art facility
Mexico City, Mexico: LATAM Sales and Distribution
Hong Kong, China: Office Operations
Shenzhen, China: Design, QC and Engineering Teams
Our Policies
How do you submit RMA's?
All RMA's can be submitted via shopalphacomm.com. Please note that the processing time for all RMA numbers is 48 hours.
What is the processing time for order discrepancies?
All orders discrepancies are processed in 5 business days.
Does Alphacomm offer a warranty policy?
We do offer a warranty on our house brand products, Quikcell. With our no-hassle warranty policy, we are 100% responsible for owning this. Meaning, you and your team don't have to worry about a thing.
Payment & Billing
What are your payment options for customers?
Order and pay in a way that works for you. With multiple payment methods (line of credit, credit card, bank account, etc) and our online webstore with 24-hour access, you can order and pay your way.